Our essential guide to outdoor lighting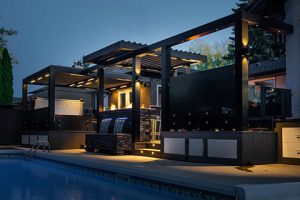 When it comes to your outdoor living spaces and decks, Windeck has you covered. Investing in creating your dream space outside can drive the overall satisfaction of your home skyward. However, with Winnipeg's short summer season, typically you only get six to seven months each year to enjoy your outdoor living space. One of the ways you can squeeze every fleeting moment and increase the functionality of your space is to install outdoor lighting. Not only does outdoor lighting allow you to use your space after twilight, extending the amount of time you can enjoy it – lights also improve safety.
At Windeck, we provide expertise for any outdoor deck we build, that includes lighting to help you maximize your outdoor time. As such, here's our essential guide to all things outdoor lighting related. Read on to learn more!
So, what is outdoor lighting?
The concept of outdoor lighting is as simple as it sounds – lights designed and manufactured specifically for use outside. Similar to how you use lighting on the interior of your home, you can also light the exterior of your home, allowing for more useful time outside. This is beneficial in Canada as the time available is limited when it comes to outdoor living. Safely extend its usefulness by installing outdoor lights.
Why do we love outdoor lighting?
We love outdoor lighting installations for your outdoor space for three primary reasons:
Increased safety
Without proper lighting for your outdoor living space, there could be numerous hazards in your path. Avoid an in-the-dark accident and light your space so you can see where you're walking. Along with the increased safety – outdoor lighting can help provide additional security by deterring mischief from occurring on your property.
Lighting design
Like anything we create, the results are a thing of beauty. When you consult with Windeck for outdoor lighting installations – with another project or separately – we will work with you to light your space in a manner that will enhance the visual appeal and beauty. In-lite lighting is designed with the highest CRI (colour rendering index) rating for any product of its kind.
Extending the useable time outside
While it's great to stargaze in total darkness, let's be honest, we're all afraid of the dark. Our outdoor lighting installations will ensure your deck or outdoor living space remains comfortable after dark. Best of all, some options allow you to control the lighting with switches so you can still have those moments without much light.
New to outdoor lighting technology
The first of its kind, the new Smart-HUB transformer allows you to control your lights in three different zones without having to stand up. Just download the in-lite Smart-HUB app, available on iOS/Android, and turn your hips into a light switch.
What outdoor lighting products do we recommend?

At Windeck, we firmly stand behind any product we use – and outdoor lighting is no exception. We're Winnipeg's premier dealer of in-lite® outdoor lighting products. in-lite® is a company based in The Netherlands, but they have distribution centers in most parts of Europe and across North America. As you can expect the products are high-quality design, energy-efficient, and comes with a five-year warranty. However, that's not the only reason we endorse this product.
To learn more about our in-lite® product offerings, visit our in-lite® outdoor lighting product pages.
High-quality design at an affordable price
While the product in-lite® manufactures is a high-quality design and uses craftsmanship second to none, the price is still affordable. Ask us about adding outdoor lighting to your space – we think you would be pleasantly surprised at the cost associated with using this calibre of a product. Once the lighting is installed, you'll have peace of mind knowing the products are energy efficient using LED's as the lighting source.
Durable, long-lasting, and low maintenance
If you're familiar with any of the other products we recommend, you'll be sure to notice a re-occurring theme. The product needs to be durable – Winnipeg and the surrounding area has an unforgiving climate and if the product doesn't stand up to the elements, we don't use it. The product lifespan is also important to us, as we don't want our customers to require expensive replacement or frequent maintenance.
Flexible design to truly customize your outdoor living space
We love designing and building outdoor living spaces for our customers. We believe what we create adds value and enriches lives. With the in-lite® product line we're able to identify unique solutions to your outdoor lighting needs.
With this product line, we have a range of different versatile options available to us. Not limited to the list below, here are some of their most popular options:
Ground lights
The lights are generally recessed into the base material to limit the portion sticking above the surface.
Bollards
Purposefully designed to make a statement within the casing or structure they are manufactured in, these lights can add further appeal and help shape the visuals of your outdoor living space.
Wall lights
Wall lights are perfect for use on fences, walls, pillars and other structures to illuminate standing architectural details.
Outdoor spotlights
Set the tone with a blanket of ambiance and highlight your outdoor living space's unique features such as trees, shrubs or man-made structures with a well-placed spotlight.
Surface lights
These lights are highly versatile and give you options to increase the uniqueness and functionality of your space with strategically placed surface lighting such as around ponds, in beams and ceilings, or on your steps.
System controls and accessories
Along with the lighting products, in-lite® offers a full suite of products to help support and design your outdoor lighting systems. Transformers, caps, poles, ground spikes, lens diffusers, power splitters, shutters, cover plates and containers – anything you need to make your project come to light.
Choosing the right lighting for your outdoor living space
While it's easy to install in-lite® products for the average handy-man, you might not have the time required to design the ambiance you hope to deliver. In any situation, Windeck can help you design a plan for your outdoor living space.
Work with Windeck's team of expert deck builders to design a bright solution with outdoor lighting products today!
If you want more information about in-lite®, visit their website at https://in-lite.ca/en.
For a personal consultation for outdoor lighting contact us today – call 204.231.2741 or use the "Schedule a Consultation" form on our website.