What is a pergola? And why do you want one?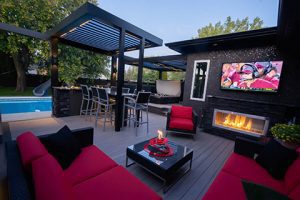 There are many different parts to a deck build than just the deck itself. We install custom aluminum railing systems in a variety of different methods and styles to ensure your safety while maintain your style. However, even beyond the deck railings, we can introduce new features to your deck to increasingly give you that one-of-a-kind look. One of the many more common deck features is a pergola, pavilion, or gazebo. And, while it's a common addition requested for the decks we build – the variety and style of your pergola design, gazebo or pavilion feature can be nearly endless!
What are pergolas? And, what are the differences between a pergola, pavilion, or gazebo?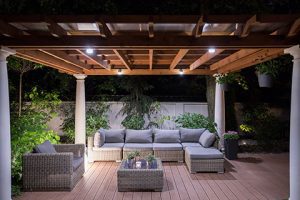 In short, a pergolas, gazebos, or pavilions is a free-standing structure with no walls. However, that's where the similarities end. A pergola is often created with the purpose of adding some sort of visual interest to your deck, front porch, backyard area. While it has vertical structures to support the roofing, there's always some element of the roof left open as it's created using lattice or other materials. The materials creating the roof-like structure aren't sealed but instead, are there to add visual appeal. That's where pergolas differ from the other two free-standing structures – pavilions and gazebos.
While all these terms can be used in a somewhat interchangeable way, a pavilion is best represented as a large pergola with a roof structure designed to keep the elements from above out. The pavilion roof is usually shingled or built using materials that reduce the amount of sunlight or rainwater from landing on the surface below. However, similar to the pergola, a pavilion is usually built on a rock or concrete surface.
The primary difference between a gazebo and a pavilion is that a gazebo is usually classified by its shape – either a hexagon or octagon and has side railings and a floor built from deck materials. But similar to the pavilion, a gazebo has a roof structure that is usually shingled or designed to keep the elements out.
So, why do I want a pergola?
Pergolas have always been popular, but we feel their popularity has sky-rocketed over the past five years. This could be in part due to the amount of customization each pergola can have. At Windeck, we don't hold you to a set of stuffy rules on what a pergola can or can't be. Tell us the design idea you had in mind – and we'll put our experts on the job to ensure it happens. Or, if you're not able to envision an idea, we're more than happy to design you something that will be tailored to and fit perfectly with the rest of your backyard paradise.
Push the functionality of your pergola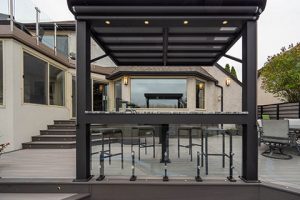 Like everything else we do at Windeck, we're always looking to push the design and functionality of any part of your outdoor living space. And, with the pergola, it's no exception. One of our more popular innovations is to utilize the pergola and outdoor LED lighting by in-lite. The in-lite product line is extremely versatile which is one of the many reasons we love using them. There are numerous options for how we can integrate their LED lighting solutions into your pergola design-build. Just imagine sitting under your pergola on a warm Winnipeg evening and some soft lighting creating an unparallel atmosphere for you and your guests!
Add-on features to your pergola
Similar to pushing the functionality and design, we can also add features to your pergola. In the past, we've created partially covered roofs, added awnings or retractable screens, and built pergolas onto sides of homes, as a separate structure, with a wet- or dry-bar top. There are no rules! You name it and we'll build it! The only limits are your imagination and our creation solutions and problem-solving! Let's design something you'll love to use and look at for years to come!
Make your pergola "green"
The pergola design as a free-standing structure with many beams and crossbeams makes it the perfect partner for a plant or vine to wrap. If you're looking to have a natural aspect to your outdoor living space, creating a "living wall" and "living roof" through vines wrapping around the pergola might just be what you're looking for!
Maintenance-free pergolas with composite deck materials
From the beginning our mandate has always been "do it once, do it right". What could be better than a pergola, you ask? How about a maintenance-free pergola built from the same high-quality composite decking or PVC deck materials that is part of every Windeck deck build? Choose between the two outstanding product lines we carry – Wolf Home Products PVC decking or Duradek PVC decking. You can't go wrong with either of these top-rated composite deck materials. We can match your decking material with your pergola material or other materials. Have peace of mind that whatever we design-build for you, it will last for years to come!
Get inspired by our recent pergolas
Still not sure where to start? We've created a couple of pergolas recently, as part of larger outdoor living space projects. To get inspired by some of our latest work, look at the following decks we've built in Winnipeg featuring pergolas:
Have your pergola built by the best in Winnipeg
We're a multi-generation family business that wrote the book on customer service, integrity for deck building value in Winnipeg. Why would you trust your dream outdoor living space project to anyone else? Windeck and it's exceptional team are ready to create and construct your backyard paradise – all you need to do is call us – 204.231.2741 or start the conversation through our website's "Schedule a Consultation" form. It's that easy!