Simple & flexible
in-lite outdoor lighting products use a safe voltage of 12V. The system is easy to install, adapt and expand.
Five-year warranty
Thanks to in-lite's comprehensive warranty, you can enjoy your outdoor lighting products for years to come carefree.
Energy-efficient & long-lasting
in-lite outdoor lighting products fixtures are fitted with high-quality LED light sources with high energy efficiency and extremely long service life.
High-quality European design
in-lite outdoor lighting products are designed by their expert team focused on achieving the highest quality of fixture with the most magnificent light.
Make your outdoor space unique in four steps
Want to use in-lite lighting in your yard, but not sure where to begin? The steps below help you create a stunning lighting plan in no time.
Design
Your perfectly illuminated yard starts with a lighting plan. Use your original yard design or draw your own picture of your yard. Interesting elements to illuminate are a deck, trees, plants, gazebo and table. Determine the angle and position from which you want to see your yard at night.
Is this from your living room or perhaps the deck? Draw these sightlines on the plan and make sure there is lighting between them. Not quite up to the job? Have an in-lite Premium Dealer or landscaper help you out.
Accents
A good lighting plan is all about the accents. Make sure to first think long and hard about which elements of your yard you'd like to have visible at night, such as a walkway to the door or the deck.
Illuminate beautiful edging, plants or shapes, in addition to the dark areas of the yard. This will make the illuminated elements more eye-catching.
Type of light
For every element to be illuminated, determine the type of lighting required. This can be done using the Product Advisor at in-lite.com.
Broad, bright light alternating with fixtures with a low light intensity produces an attractive lighting effect that enlarges the perceived living environment of both your yard and home.
Fixtures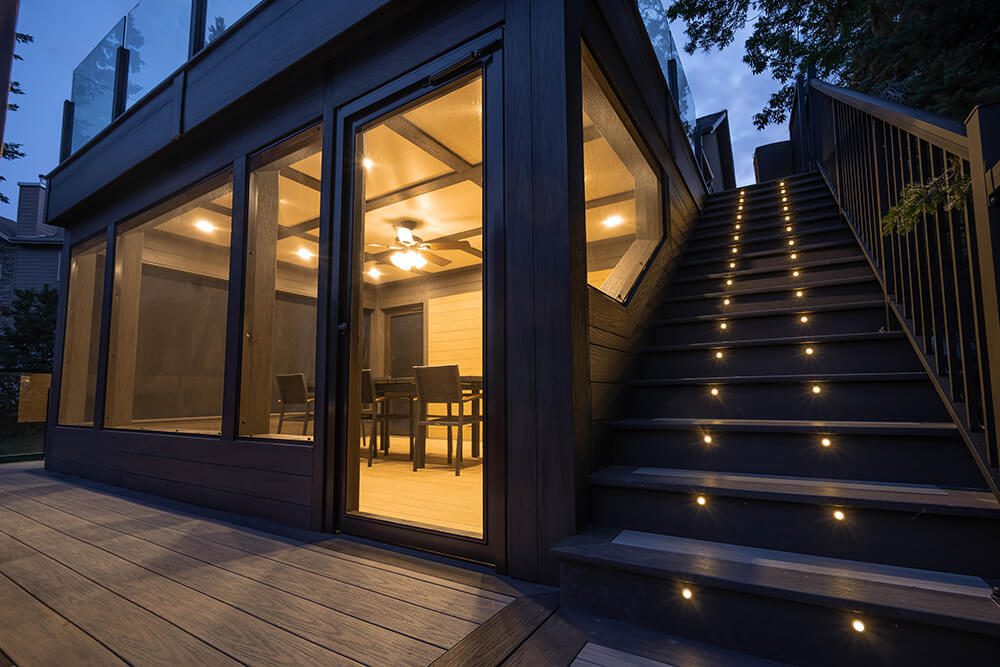 The final step is to simply choose the right fixtures. Fixtures are available for a wide range of purposes and in various colours. Need inspiration? Have a look at in-lite's product inspiration pages for ideas of how the fixtures can be used.
Finished your lighting plan? Have a look at our installation tips at in-lite.com. If you're a little handy, you can easily and safely install the lighting on your own. Otherwise, you can have your favourite Winnipeg deck builder, Windeck, help you install your in-lite plan!
For more information – contact Windeck, your premium in-lite outdoor lighting dealer in Winnipeg!