Designing a Deck for Entertaining – Endless Possibilities
After a year and a half of staying at home due to the COVID-19 pandemic, things are finally starting to look up. We are able to – safely – meet with friends and family we haven't seen in months. If you love the feeling of chowing down at a restaurant and grabbing drinks on a sunny patio, but don't want to leave your house just yet, why not do both in the comfort of your own home?
With 40 years' experience of deck building and railing installation, WinDeck Ltd. is dedicated to helping you build the deck of your dreams to create a warm, inviting atmosphere for your loved ones. WinDeck is a six-time Consumers' Choice Awards winner (2009-2014) and is a Better Business Bureau-accredited business since 1999. There's no reason why you shouldn't choose WinDeck to build your outdoor oasis. Here are some exciting features to take your deck from drab to fab.
Let there be light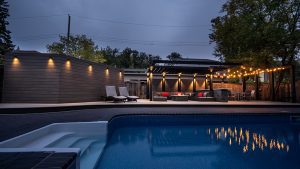 There's something magical about sitting outdoors in the dark, save for the twinkle of stars peppering the sky above us. WinDeck captures that feeling perfectly with in-lite LED lighting. Headquartered in The Netherlands, in-lite is distributed throughout North America. They offer ground lights, bollards, wall lights, outdoor spotlights, and surface lights to create whatever mood the customer wants to achieve for their decks. All in-lite outdoor lighting products output at the highest colour rendering index (CRI) rating, which means your outdoor living space will look absolutely dreamy and glowy.
Level up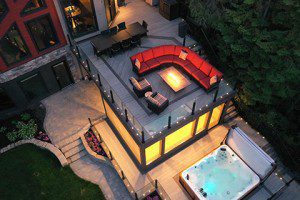 If an ogre-like Shrek can have many layers, so can your deck. WinDeck can handle decks of various configurations; just check out this project we completed in Whiteshell, Manitoba. Guests can sit back and enjoy a nice, cold beer in an outdoor living space that isn't even on the ground floor. How many people can say they've done that? It's like being on a rooftop patio but in a more intimate, relaxing environment.
Three's definitely not a crowd
If you're not the less-is-more type, then this deck is for you. It features three elements for the ultimate outdoor entertaining experience for you and your guests. First, entice them with your masterful barbecue at the grilling and dining station. Secondly, guests can sit back and chill out in the seating area. Lastly, guests can visit the bonus space, located directly off the master bedroom.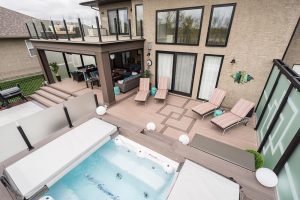 Keeping things low-key
Privacy is important to you, and WinDeck takes that seriously. That's why they installed this deck to make you the envy of your neighbourhood, while also creating an air of mystery around your backyard. Privacy fences and pergolas will give you the anonymity you desire – but in a stylish way. A free-standing pergola, standing upright with support from cantilevers and nothing else, with retractable sunscreen meshing also provides shade during the summer season. Meanwhile, the privacy fence uses the aforementioned in-lite lighting under the top ridge, showcasing WinDeck's amazing craftsmanship.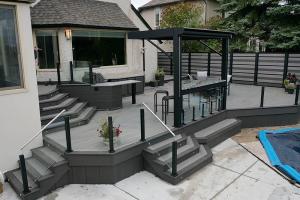 Whether you want to show off or wind down, WinDeck will reach – and surpass – your goals for your deck. Decks are an extension of your home, so why not make it the best it can be?
Call WinDeck at 204-231-2741 or email info@windeck.ca for more information.