A retractable awning expands your seasonal living space and adds value to your house without a costly inconvenient renovation. Awnings block the sun's heat before it enters your house, cooling your home better than blinds or drapes. Reducing energy costs of air conditioning up to 25 per cent, awnings save you money and reduce your home's carbon footprint.
Awnings shade you and your family from up to 98 per cent of the sun's harmful UV rays. Reducing direct sunlight with an awning decreases the temperature on your deck or patio by up to 13° C—invaluable in a Winnipeg August. Our 100% acrylic awning fabrics are water-repellent, mildew-resistant, and easy to care for, staying bright and beautiful for over 10 years.
Colour and pattern options for MacDonald Awnings can be found on the Sunbrella Fabrics for Shade.. There are many different choices; you'll be sure to find something that matches your dream of an outdoor paradise.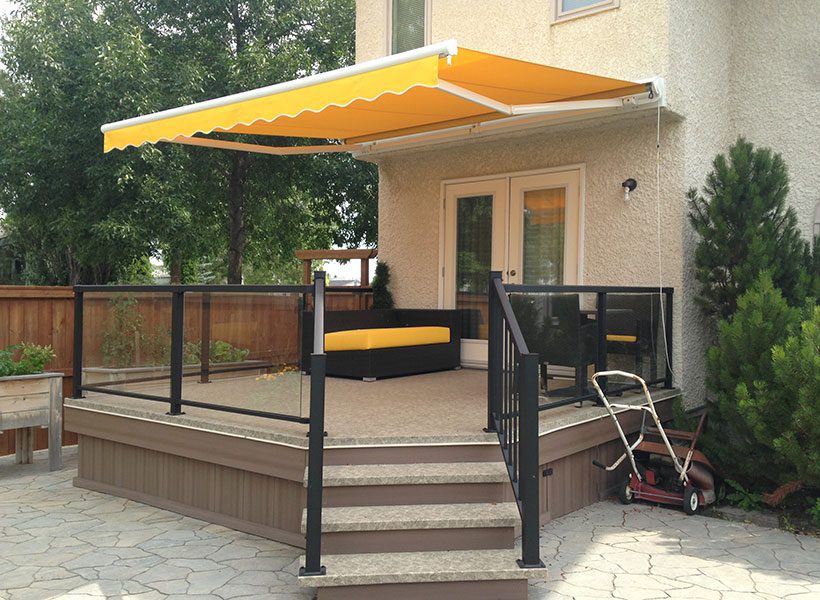 Did you know…
The wall and top-fix mounting brackets are heavy-duty castings with a powder-coated finish.
The square steel support bar, 1 5/8″ x 1 5/8″ x 0.08″, is galvanized and finished with a powder-coating.
The front profile is specially designed to provide strength and good looks and is finished with a powder-coating.
The roller tube is galvanized steel with 3" diameter and rope track.
The roller support brackets are fully cast, providing a strong and attractive side detail.
The high-quality 'Geigar' gearbox units, available in both 3:1 and 7:1 ratios, are powder-coated and designed as an integral part of the support bracket.
The folding arms are constructed of thick-walled aluminum profiles and high-quality castings. Arms are either double- or triple-sprung, with chain for extra strength, durability, and longevity.
The patented cast-arm brackets provide both wind security and tilt mechanisms for safety and ease of pitch adjustment.
The heavy-duty cast front profile brackets, housing stainless steel swivel pins, prevent lateral loading on the arm.
The 7′ wide one-piece hoodcover has a slide-in rubber seal and drain-spout to prevent water from spilling onto the rolled fabric.
We use stainless steel components wherever technically possible.
All Voss awnings meet the stringent 'TUV' safety standard.
The Voss system includes the only two-arm awning with a 13′ projection x 21′ width that passes the 'TUV' testing.
Voss arm units are recognized for their high quality, selling in excess of 80,000 sets per year.