StruXure created the perfect solution for controlling the effects of weather in your outdoor space. We call it the world's smartest pergola (or deck roofing). This remote-controlled roofing for your outdoor space can pivot and open to allow for more or less sunshine on your deck or outdoor space. Let the sun shine in as much (or as little) as you want with this modern solution for a deck or patio covering!
With many options to choose from, our deck and patio professionals are here to help.
From residential to commercial to restaurants, there is a large selection of StruXure products and design choices to choose from to suit every outdoor space. We'll walk through your needs with you and provide the solution that best suits your needs and budget. The best part is Windeck Ltd.'s skilled professionals can install StruXure on existing decks or outdoor spaces or incorporate StruXure products into a new deck design. From residential to commercial uses, small patios to larger outdoor spaces, we've got you covered. StruXure pergola and deck covering products are perfect for Manitoba's shifting weather conditions, allowing you to shift your covering needs faster than the weather changes!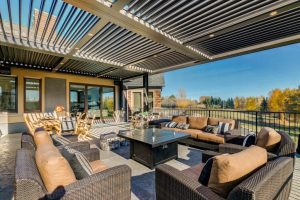 Some of StruXure's Product Options
Pivot 6
The Pivot 6 is the most popular choice for homeowners. With pivoting louvres, you are able to control the amount of sun that you want coming into your space. The uniquely designed louvres pivot a full 170 degrees, offering protection regardless of the sun's position. You can enjoy your space with full sun, no sun, some sun, whatever your heart desires.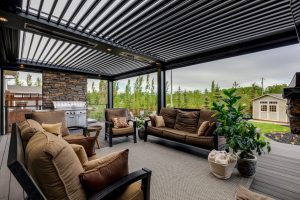 Pivot 6 XL
For commercial applications, the Pivot 6 XL was engineered to span farther and handle three times more rainwater than our industry-leading Pivot 6 design. This enables StruXure to design bigger systems to accommodate larger projects, making us the industry leader commercially.
For homeowners and businesses looking for that driving-with-the-sunroof-open feeling, meet the Pivot 6 Slide. We challenged our design team to create a system that can do what no other louvred system can do: give you full sky. The Pivot 6 Slide allows you to not only control the louvres like the Pivot 6, but also allows you to fully open and close the system giving you a clear view of the sky with no louvres at all.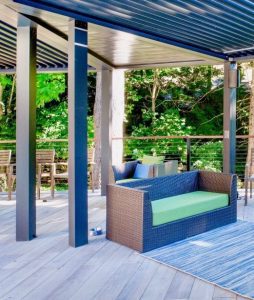 When you don't need every section of your Pergola X to be automated, we offer a fixed ceiling panel option that seamlessly integrates and protects. The Pan 6 is perfect for larger projects with multiple zones where you can alternate between louvres and pans.
---