Pergola X
Why do people want a StruXure system?
Experience the perfect blend of style, functionality, and innovation with the STRUXURE Louvre Roof System, Pergola X. Elevate your outdoor living spaces to new heights by investing in a product that seamlessly merges architectural elegance with cutting-edge technology. With its adjustable louvres, the system grants you unparalleled control over sunlight, ventilation, and even rain protection, ensuring that your patio or outdoor area remains comfortable and inviting, regardless of the weather. Crafted with precision and built to last, Pergola X offers not only exceptional durability but also a sophisticated design that complements any architectural aesthetic. Transform your outdoor space into a haven of relaxation and entertainment, and enjoy the ultimate level of customization and luxury that the STRUXURE Louvre Roof System effortlessly delivers.
Pergola X Features
StruXure offers a remarkable blend of features designed to transform outdoor spaces. The adjustable aluminum louvers on Pergola X can be rotated to any angle, allowing users to effortlessly regulate the amount of sunlight and airflow, creating a comfortable and customizable outdoor environment. The systems are also equipped with integrated rain sensors, promptly responding to changes in weather by automatically closing the louvers to shield against rain. Beyond their functional prowess, STRUXURE louvre roof systems boast a sleek and modern design, enhancing the aesthetic appeal of any residential or commercial space. StruXure's latest enhancement elevates any Pergola X project to new heights. RISE is similar in concept to crown molding and can be added to the top of your louvre roof system in multiple variations to deliver personalized dimension and flair. Crafted from high-quality materials, these systems are durable and low-maintenance, ensuring longevity and continued performance. Whether it's to optimize outdoor comfort, create a versatile entertainment area, or add value to a property, STRUXURE louvre roof systems stand as an epitome of advanced engineering and design innovation.
Will Manitoba Winters be an issue for my new pergola?
Pergola X from StruXure stands as a testament to durability. Crafted with meticulous attention to detail and utilizing robust materials, Pergola X is engineered to withstand the extreme cold, heavy snow loads, and fluctuating temperatures that characterize Manitoba's winter climate. The structure's sturdy aluminum construction is not only rust-resistant but also structurally sound, ensuring it can bear the weight of accumulated snow without compromising its integrity. Additionally, Pergola X's unique design incorporates advanced weatherproofing measures, including sealed seams and integrated drainage systems, preventing the buildup of ice and water damage. With its unparalleled durability and resilience, Pergola X is the ultimate choice for those seeking a reliable and long-lasting outdoor solution to embrace the beauty of winter in Manitoba without compromising comfort or quality.
Gallery
Some of our recent projects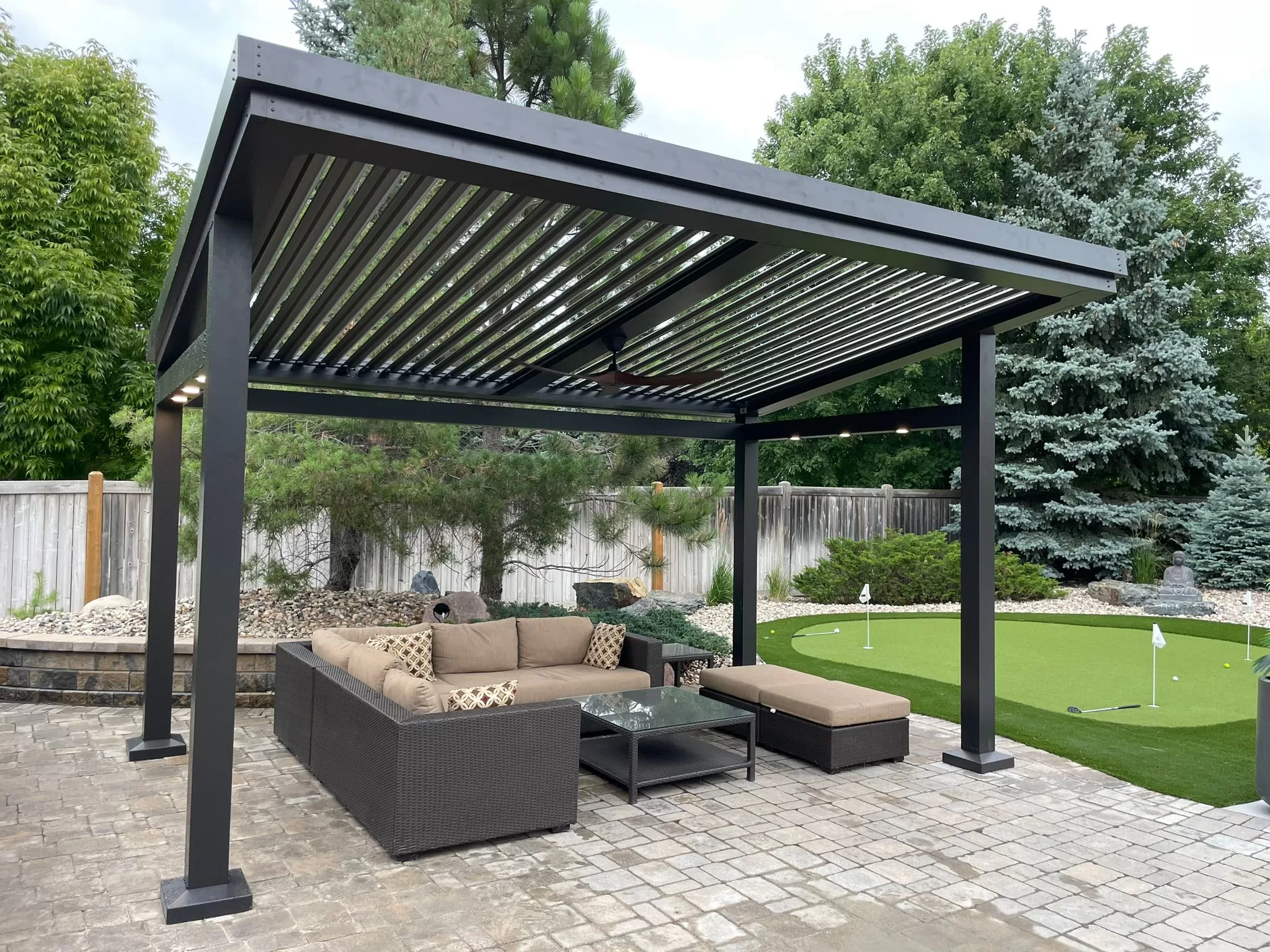 Pergola X Maintenance
Although relatively little maintenance is required, to keep your louvre roof system working like the day it was made, there are a few steps you need to take.
CLEANING INTERNAL GUTTERS
Your StruXure system has a 360 ̊ internal gutter system to get the water off the louvers when closed. These gutters may get filled with leaves and debris, particularly if near trees that shed or have falling leaves. Leaves and debris collect and clog the hole leading to the downspouts for your system. This will cause the gutters to back up and potentially have water spill over the gutters. It is the owner's responsibility to make sure the gutters and downspouts are clean and clear of any debris that will cause the system to not perform properly.
MODERATE DIRT
Your system will require occasional washing to remove any dirt or environmental buildup. We recommend using clean water with a garden hose and soft-bristled brush is. You may use a quality auto detergent and/or auto brush to enable a gentile removal of dirt. Rinse thoroughly and wipe down dry.
HEAVIER DIRT ACCUMULATION
Wash in the manner indicated above, but use the following solution:
1/3 cup detergent (e.g. Tide®)
2/3 cup trisodium phosphate powder (also known as T .S.P .) 1-gallon water
PRESSURE WASHING
If you choose to pressure wash your system, please use low pressure 1500-2000 PSI when cleaning. More aggressive PSI can damage or dislodge some of the powder coating from the aluminum. StruXure will not warrant any against peeling or removal of powder coating from part of our system as a result of aggressive pressure washing (above 2000 PSI).
MILDEW ACCUMULATION
Mildew can collect on surfaces of all types of building products. This can happen when the surface gets little or no sunlight to dry it off. Normally, mildew will appear as black spots and can be removed by using the following cleaning solution:
1/3 cup detergent (e.g. Tide®)
2/3 cup trisodium phosphate powder (also known as T.S.P.) 1-quart sodium hypo chloride 5% solution (e.g. Clorox®)
3 quarts water
ENVIRONMENTAL BLACK STREAKING
Black streaking can also collect on the surface of a structure. Black streaking can be removed by using Gutter Zap 4, which can be purchased online.
CAULKING COMPOUNDS, TAR, ETC.
Use mineral spirits in reasonable amounts, apply directly to foreign substance. Rinse the area thoroughly with water immediately after cleaning.
Warranty Information
Every good company believes in their product. StruXure is no exception.
THE POWER COMPONENTS (motor, power supply, receiver, and electronic controls) are warranted for five (5) years from the date of installation.
FOR MANUAL SYSTEMS the components (manual operator and movable components) are warranted for ten (10) years from the date of installation. This excludes the manual crank arm.
THE SUPPORT COMPONENTS (posts, gutters, louvers, and beams) are warranted for fifteen (15) years from the date of installation.
THE STRUXURE OUTDOOR SYSTEM is warranted for the lifetime of the system against manufacturing defects.
This limited lifetime warranty applies to manufacturing defects in the components for residential and
commercial applications.