Deck railing ultimate guide for Winnipeg Homes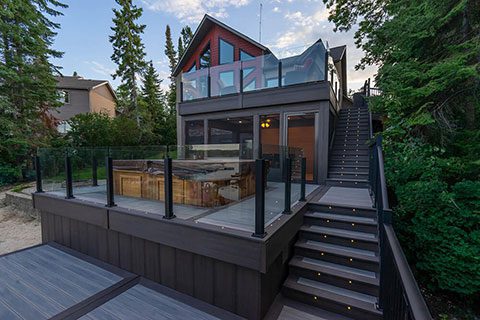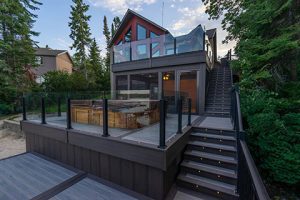 When it comes to deck building you need a quality deck railing to complete the project. Not only are their safety factors to be mindful of, there are technical aspects to deck railing that need to be considered. There is more to deck railing installation than meets the eye. It needs to be engineered to withhold as a standalone structure. It receives the same onslaught of elements your deck receives; in Winnipeg it needs to withstand rain, snow, hail, sun, wind, humidity, insects – all sometimes within the same day!
What deck railing is the best?
As a local Winnipeg-based company, we understand what your deck goes through. We are a certified S.T.A.R. Systems deck railing supplier, which is what we feel is the best product on the market for your deck building project. We absolutely endorse and believe in the S.T.A.R System project – we've used on thousands of projects ranging from front steps, to home interiors, to commercial office space, to condominium balcony railings.
What benefits does the deck railing have for my deck project?
Easy to install
The S.T.A.R. Systems deck railing is superior to all others on the market. As a deck railing supplier, we can sell you the deck railing directly. Relative to the other construction projects, it's easy for most DIY's to install on their own. However, if you're not keen on installing the railing yourself, our team is happy to work with you on your project – independently or with a deck building project.
Saves money
No matter who is installing your railing system because of the ease of installation – it will save you money. There are plenty of options – install it yourself for maximum savings, hire a contractor, or have our expert team complete the work for you. We've been using this product for years and know it like the back of our hand. Not only that, we are a railing supplier, which is a true indication that we stand behind the product.
Low maintenance & environmentally friendly
Similar to other products we seek to use in our deck building projects, the deck railing system is no exception. The S.T.A.R. Systems railing is ultra-low maintenance. It doesn't rust as it's aluminum railing. It doesn't rot or decompose. It doesn't require repainting as the aluminum is powder-coated from the manufacturer. All of the materials used for the finish are eco-safe.
Strength & durability
Every part of the deck railing system is designed with these main principles in mind. The aluminum railing posts are made with T6-grade aluminum alloy and heavy-duty .025" wall thickness with interior I gussets.
Deck railing installation options?
We've already covered how easy it is to install the S.T.A.R. Systems railing, but why is it so easy? Arguably, the most difficult part of any railing application is completing the railing on the stairs. However, with S.T.A.R.'s adjustable stair system, it takes the guesswork out of that part of the installation. The versatility of the railing will allow it to adjust to nearly every stair angle, further pushing the ease of installation forward.
Not only that, but the railing system is completely modular – pre-finished, knock-down railing system – and can be assembled at the job site. This makes transportation and logistics around installation simplified immensely. Anyone with a truck (or large car/SUV) can transport the material, no need for specialized shipping that can incur potential damage. As well, there's no second-guessing measurements. If you're on the job site, just go measure it again!
Styles and use cases for deck railing
The S.T.A.R. System has primary four style options for deck railing to fit your project perfectly – glass railing, picket railing, cable railing, and interior railing.
While you're free to make your selection on the railing system for your project, we're more than happy to assist you. We know the products inside and out and can help you determine the perfect railing system for your project.
Additional options glass deck railing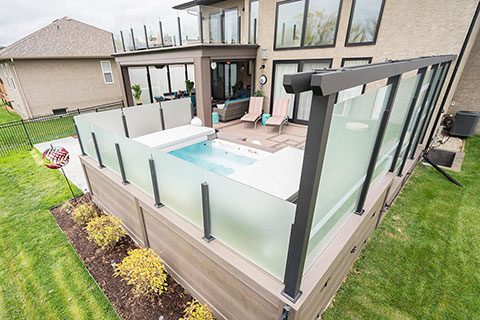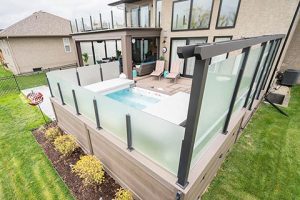 Most situations call for a glass railing for maximum style. The glass railing can also be installed in a variety of ways
Clear glass for sightlines
Matelux frosted glass for privacy
Topless railing for unobstructed views
With top railing for additional style
We can also imprint custom designs into the frosted glass furthering customizing your dream backyard space to your style. Essentially, if you have ideas or dreams for how your project will look, talk to us! We love taking your ideas and realizing them when we build your deck project. There are many examples of our deck building and deck railing installation prowess in our inspiration showcase.
Colors & materials
The S.T.A.R. System offers ten standard powder-coated colors. We're adept and have vast experience at matching a perfect combination of composite decking, deck railing, with features and custom build elements, along with accessories like in-lite LED outdoor lighting products – bringing yet another dimension to any deck we build.
However, if you're not feeling any of the colors – we can do custom! This essentially means your choices for the color is infinite. If you're looking for more information about the color options and what powder-coating is – visit our colors & material S.T.A.R. System page.
Railing system warranty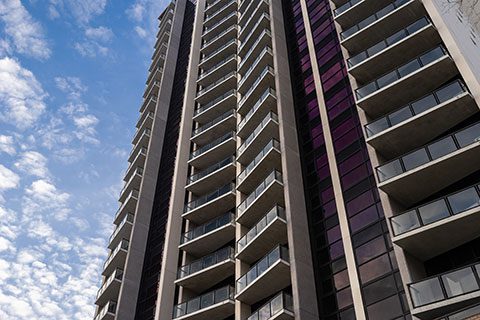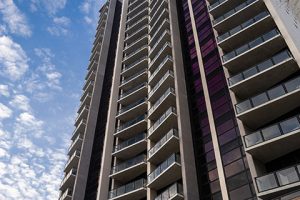 Depending on your railing installation will determine the warranty on the railing. However, for most residential railing systems you're covered for structural integrity and workmanship of the product, under normal use, for 20 years. Specifically, the powder-coated finish is warrantied to not peel, flake, blister, or crack for 10 years when used in residential applications (excluding multifamily and commercial applications).
In any situation, it's best to consult with us, as we are a S.T.A.R. System railing specialist and representative. We can give full warranty details and limitation, along with additional information for commercial application warranty. As well, we can guide you with best practices for the little maintenance required, along with cleaning instructions, so that risk of a warranty claim is further reduced.
For full details on deck railing warranty covered as part of our S.T.A.R. System railing product line, visit our railing warranty page.
Safety of our railing systems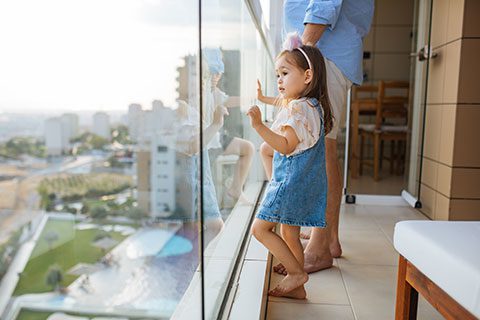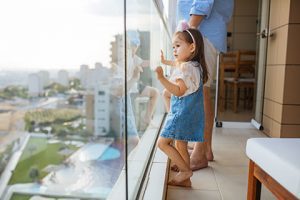 This brings us to the end of our guide, with one final point to cover. While we're in the business of deck building and deck railing installation and supply – your family's safety is the most important factor with any decision made for your project. If you're not able to safely use and rely on the products – we haven't done our job. As a multi-generation, family-owned and operated business – we know and deeply understand the importance of family.
We adhere ourselves to rigorous safety standards on the jobsite and for the completed project. We sourced one of the highest-rated railing systems in S.T.A.R. System that go far beyond any standard building code requirements. As well, having a strong railing is only one part of the equation. Railing installation techniques matter. We've been installing deck railing for over 30 years. Our qualified railing installation technicians know how to properly anchor your railing to your structure to meet safety protocols.
Book your next deck railing job with the Winnipeg experts in railing installation!
We're talking about us – Windeck Ltd. – your master deck builders. We can supply and install your deck railing as part of your deck building project or a standalone job. We can service and apply our skill to all sorts of jobs – interior railing, deck railing, front step railing, condominium building balcony railing, office space railing – if you can name it, when it comes to railing installation – we've probably done it.
Our core principles extend to all of the work we do – and that includes deck railing installation. When it comes to your deck build or backyard paradise project – Do It Once, Do It Right! So, why not for deck railings – Do It Once, Do It Right!
Contact us for your next project via our website consultation form, by phone at 204.231.2741 or by email info@windeck.ca!